A smile makeover is a dramatic improvement in the aesthetics of your teeth and mouth. Your mouth, your teeth and your smile are the first things people notice about you. A sensational smile can enhance your social and professional life. Most people get a smile makeover because they're unhappy with the appearance of their teeth. Luckily, there are many different solutions and smile makeover treatment plans for those who feel self-conscious about their smile.
Celebrity Smile Makeover
Have you ever wondered how celebrities have perfect teeth? Celebrity smiles are white, aligned, and ideally shaped in length and width. I'm sure you've seen the pictures, movies, and television shows featuring celebrities with their gorgeous grins. Once these stars hit fame, they decided it was time to give their smiles a makeover. Fortunately, smile makeovers aren't only for the rich and famous.
Who Needs a Smile Makeover?
If you feel that the appearance of your mouth and teeth interfere with your social and professional life then you should consider a smile makeover.
Main Reasons for a Smile Makeover
A smile makeover is a combination of dental procedures and treatments aimed at helping you get the smile you want by addressing your unique issues and concerns.
Tooth Color – If you suffer from discolored teeth as a result of aging, your food or drink diet, a smile makeover can restore your teeth's appearance. Teeth whitening can improve the color of stained teeth.
Alignment – Teeth that are misaligned can be straightened and properly aligned through orthodontics like Invisalign or may be improved with veeners.
Chipped, Cracked, or Uneven Teeth – Teeth that are chipped, cracked, or uneven can be cosmetically bonded with veneers or Lumineers to improve appearance.
Missing Teeth – Missing teeth can be replaced with dental implants or bridges.
Spacing – Teeth that have gaps between them can be aligned properly through a variety of cosmetic dentistry solutions.
Tooth Length – A smile makeover for shorter teeth may include the reshaping and lengthening of the two central teeth with composite bonding or porcelain veeners.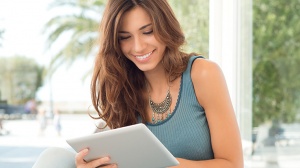 What Types of Procedures Are Involved in a Smile Makeover?
Smile procedures can involve both restorative and cosmetic procedures that are specifically designed just for you by your dentist.
Teeth Whitening – Teeth whitening products can be bought over the counter and performed in your home, or they can be done in a dentist's office. The process is generally done by either applying a gel or by having laser treatments done.
Dental Veneers – Veneers can be made of either composite resin or porcelain. Typically, a tooth-colored shell is bonded onto the surface or front of your teeth, changing the shape, color, size and overall appearance. Porcelain veneers are one of the top celebrity smile makeover techniques. You can see porcelain veneers on Victoria Beckham, Gwen Stefeni, Tom Cruz, Denzel Washington and many more.
Dental Implants – Dental implants are a good option for people who are missing teeth, or have gaps between their teeth. They're also a great alternative to bridges, crowns and dentures, and they blend in with your natural teeth.
Filing Replacement – Before, cavities were filled with silver filings. Now, the silver is being removed and replaced with a natural tooth colored filling.
Dentures – Dentures are removable, fake teeth used to replace missing teeth and gums. There are full and partial dentures.
Dental Bridges – Dental bridges bridge the gap between missing teeth. They are made of two crowns for the teeth on both sides of the gap. There are three types of dental bridges, traditional, cantilever and Maryland bonded.
Dental Crowns – Dental crowns are tooth-shaped caps that are placed over a tooth that has been shaved or shrunk down in size. The crown completely covers the old tooth, restoring its shape, size, strength and appearance. Crowns are made of metal, porcelain, resin, or ceramic.
Teeth Straightening – Cosmetic dentist are now using Invisalign instead of braces to straighten teeth. They are clear, removable aligners that move teeth closer together over a period of time. The clear aligners are nearly invisible, so they're very hard to detect, which means patients don't feel embarrassed or self-conscious when wearing them.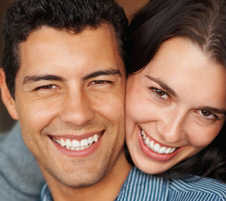 Cost of a Smile Makeover
The cost of your smile makeover will vary depending on your dentist, your level of dental insurance, the state of your oral health and the extent of your customized makeover plan.
Maintaining Your Results of a Smile Makeover
Cosmetic dentistry procedures require regular oral hygiene care and may require maintenance over time. Teeth whitening must be repeated on occasion in order to maintain brightness. Porcelain veneers may chip or break off and need replacement. Dental crowns typically require replacement after 10 to 15 years.
No more feeling self-conscious and embarrassed of your smile, contact a dentist near you today. You deserve a gorgeous smile!